What You Can Expect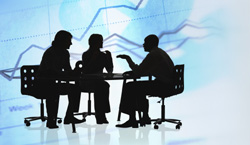 ---
This is an outline of how we conduct our appointments during the first year. Please set two hours aside for an appointment. Please be organized so as not to waste time. If you need help with organization you are not alone. Let us know and we can help you with setting up organizational systems. An appointment is the ultimate in interactivity. If you cannot keep an appointment please give us 48 hours notice. We will reschedule you as soon as possible.

First Visit

Introduction to the firm, the services provided and how you compensate us

Gathering of background data related to goals both personal and financial

Cash Flow Analysis

Risk Management Analysis

If a client has investable assets, we review the fundamental principles of investing and the wealth management process

Homework assignments

Second Visit

Review of financial plan related to financial goal(s)

Use of tax-advantaged programs in reaching financial goal(s)

Use of taxable programs in reaching financial goal(s)

Application of investing principles to client's specific situation

Establishment of basic programs related to past savings

Establishment of basic programs related to future savings

Homework assignments

Third Visit

Review of previous visits and programs

Review of how to read statements and methods of evaluating investment management performance

Continuation of planning process

Review of update/revised plans

Asset protection strategies

Basic estate planning

Homework assignments

Fourth Visit

Continuation of asset protection and estate planning strategies

Review of estate plan

Building and working with your advisory team

Advanced estate planning may include appointments with your CPA firm and estate and/or elder law attorney. If you do not currently work with such professionals, we can refer you to appropriate professionals.

Homework assignments

Service Visits

Reviews and rebalancing of portfolio to lock in gains in existing programs

Updates of plans

Advanced asset allocation

Update of estate plan

Advanced estate planning

Homework assignments

If you are over 60 years of age, our focus will be on understanding when you should retire, the tax consequences of retirement, the role of inflation, risk management strategies, income planning methods and long-term care planning.

If you are over 70 years of age, our focus will be on management/maximalization of required minimum distributions, conducting a beneficiary audit, the role of stretch IRAs, avoiding probate and other legacy planning techniques.

We work by appointment and referral only. Services provided are the services of FatTail Financial Advisory Group Inc. Not all Cambridge Investment Research Advisors offer the same services or charge the same fees. We do not give tax or legal advice. Please consult a professional to address your personal situation. If you have not established such professional relationships, we will be glad to refer you to an appropriate professional.
---